Dr. Bill W. Miller, BS, MS, PhD; began testing "Dr. Millers' Holy Tea" almost 30 years ago at his location in Jackson, Tennessee.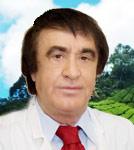 He graduated with a Bachelor of Science Degree in Biology from the accredited Lambuth University, and shortly thereafter, began a quest in achieving personal optimum health and fitness. He founded and operated two prominent and successful health and Fitness Centers in the West Tennessee area. One of these centers was the largest of its kind in the Southeastern United States! He personally trained and produced several acclaimed State, National, and World Champion Professional Arm Wrestlers and Bodybuilders at these centers. Additionally, during this same time period, he earned his Masters Degree in Nutritional Science from Lambuth University in 1974.

Still not satisfied with the impact he had made on societal health, he began the complicated task of formulating a tea based beverage that would help individuals lose weight in a fast, healthy, yet radical way. To start this colossal formulation and research process, he founded the Jackson Health & Wellness Clinic, where he painstakingly and tirelessly formulated Dr. Miller's Holy Tea ingredients and began testing on volunteer individuals. This remarkable tea formulation, and its overall health benefits to the body, was the topics of his final thesis that earned him a Doctorate of Philosophy and Nutritional Science in 1994. Dr. Miller authored two books based on his research and patient studies of those that drink the tea regularly.