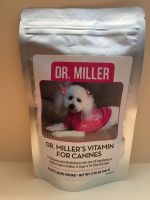 back of package
Canine Vitamins ™ Pin It

Each package of vitamins consists of 30 chews.
Cost: $29.99 (bulk 10-49 and 50+)
Shipping within US: $6.95 ($13.25 outside USA) for up to 9 items - $10.95 ($39.00 outside USA) for Bulk Order of 10 items or more
All orders are shipped USPS Priority Mail with delivery tracking.
Automatic monthly purchases

Dr. Miller's Vitamin for Canines™ is a comprehensive multivitamin dietary supplement with over 25 ingredients to support peak condition in dogs of all sizes.

The vitamin supports: Kidneys, Brain, Skin/Coat, Nerves, Bones/Joints, Blood Sugar, Heart, Eyes/Vision, Digestive System and Reproductive Organs

Proprietary Blend - After two years research and development, this is now available for your pet.
Dr. Miller has authorized us to be the first to distribute this new product.

Bag contains 30 chews
Suggested Use:
Under 30 pounds - 1/2 chew daily
30-60 pounds - 1 chew daily
Over 60 pounds - 2 chews daily
When more than 1 chew a day is required, dividing between AM and PM is optional.

Disclaimer: The statements regarding these products have not been evaluated by the Food and Drug Administration. These products are not intended to diagnose, treat, cure or prevent any disease. The information on this Web site or in emails is designed for educational purposes only. It is not intended to be a substitute for informed medical advice or care. You should not use this information to diagnose or treat any health problems or illnesses without consulting your physician. Please consult a doctor with any questions or concerns you might have regarding your condition.
Refund Policy