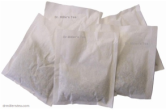 HOLY TEA™
Individual Tea Bags in bulk:
2000 teabags @ $1.25/bag = $2500
1000 teabags @ $1.30/bag = $1300
500 Tea Bags @ $1.40/bag = $700
$30 Shipping USA. Additional Shipping charges will be requested outside USA.

IMPORTANT: Holy Tea Loose Individual Tea Bags are formulated by Dr. Miller and contain Persimmon Leaves, Marshmallow Leaves, and Malva Leaves. Holy Tea Capsules also contain Acidophilus and Aloe Vera Gel. Holy Tea Capsules are not intended to replace Brewed Holy Tea but are great for times when Holy Tea is not available such as vacations or at work.
*Results from pills may vary from brewed Holy Tea.
WARNING:
This product contains cathartic herbs. Pregnant and nursing women, the elderly, children, and individuals suffering from any illness or health condition should consult with a physician prior to using this or any herbal supplement.
Disclaimer: The statements regarding these products have not been evaluated by the Food and Drug Administration. These products are not intended to diagnose, treat, cure or prevent any disease. The information on this Web site or in emails is designed for educational purposes only. It is not intended to be a substitute for informed medical advice or care. You should not use this information to diagnose or treat any health problems or illnesses without consulting your physician. Please consult a doctor with any questions or concerns you might have regarding your condition.
Refund Policy Billing Terms and Conditions Shipping and Refunds